RecBorder

RecBorder is a 4-foot long overlap link-together modular system permanently secured to the ground with a 30" long 3/4" diameter button head spike. Retaining timbers for safety surfaces of play areas. RecBorder will never rot, decay, splinter or secrete poisonous arsenic like treated wood timbers. Once in place, our spikes will not rise above the timber surface to present trip hazards. RecBorder is an environmentally-conscious product made from recycled grinds of polyethylene. Available in 8" and 12" heights. Call for quantity discounts of more than 40 of the 12" timbers or more than 60 of the 8" timbers.
Sorry, no larger image available
You might also like: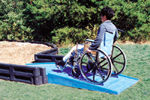 Wheelchair/ADA Accessible Ramp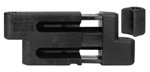 Copyright ©2002–2018 Recreation Dynamics, Inc. 540-547-9402
Many steel items require a 3-4 week lead time for preparation and delivery.
Most other items are shipped immediately. Call us toll free if you have specific time requirements.
*Free freight for all orders over $50 shipped inside the continental U.S. Offer valid for a limited time, subject to change without notice.