RecShred Rubber Mulch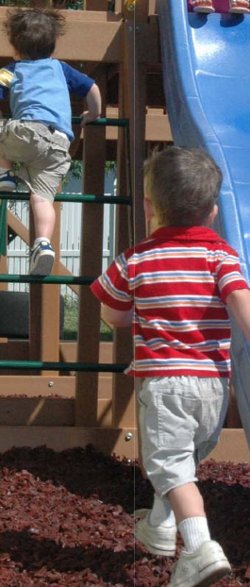 RecShred Rubber Mulch and commercial playground equipment are the perfect combination. Our recycled rubber playground safety surface protects your kids and saves you money.

Use RecShred's recycled rubber safety surface because it's impact-absorbent, easy to install and virtually maintenance-free. When you evaluate suppliers of playground flooring materials, consider RecShred Rubber Mulch. Our recycled safety surface is the perfect complement to commercial playground equipment used by child care facilities, schools and community parks to protect children from injury.
Made of clean, shredded recycled rubber
Never loses its effectiveness as a safety surface
RecShred Premium ADA safety surface meets ADA requirements for wheelchair accessibility (ASTM F1951-99)
Completely non-toxic recycled rubber
No splinters, like with mulch and wood chips
Meets non-flammability standards
Rubber mat colors won't rub off on shoes, hands, or clothes
Available in a variety of fun colors
Warranted to last for years*.
72% more effective than standard safety surfaces and flooring
All RecShred Rubber Mulch safety surface products have significantly passed ASTM F1292-99 Head Impact Criteria (HIC) safety requirements
Reduce your ownership cost 70% over the next 8 years
20% Less expensive than wood engineered systems
Low maintenance-low ownership cost = Increased Value
Email for Pricing
Copyright ©2002–2018 Recreation Dynamics, Inc. 540-547-9402
Many steel items require a 3-4 week lead time for preparation and delivery.
Most other items are shipped immediately. Call us toll free if you have specific time requirements.
*Free freight for all orders over $50 shipped inside the continental U.S. Offer valid for a limited time, subject to change without notice.