Swing Rings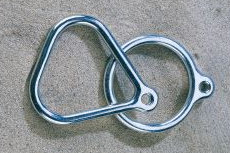 Swing rings, 6" diameter round or triangle, are made from polished aluminum. Now with wider grip handle.
Sorry, no larger image available
Copyright ©2002–2018 Recreation Dynamics, Inc. 540-547-9402
Many steel items require a 3-4 week lead time for preparation and delivery.
Most other items are shipped immediately. Call us toll free if you have specific time requirements.
*Free freight for all orders over $50 shipped inside the continental U.S. Offer valid for a limited time, subject to change without notice.